Flytrip expands options to tourists with the start of operations at Tocumen Airport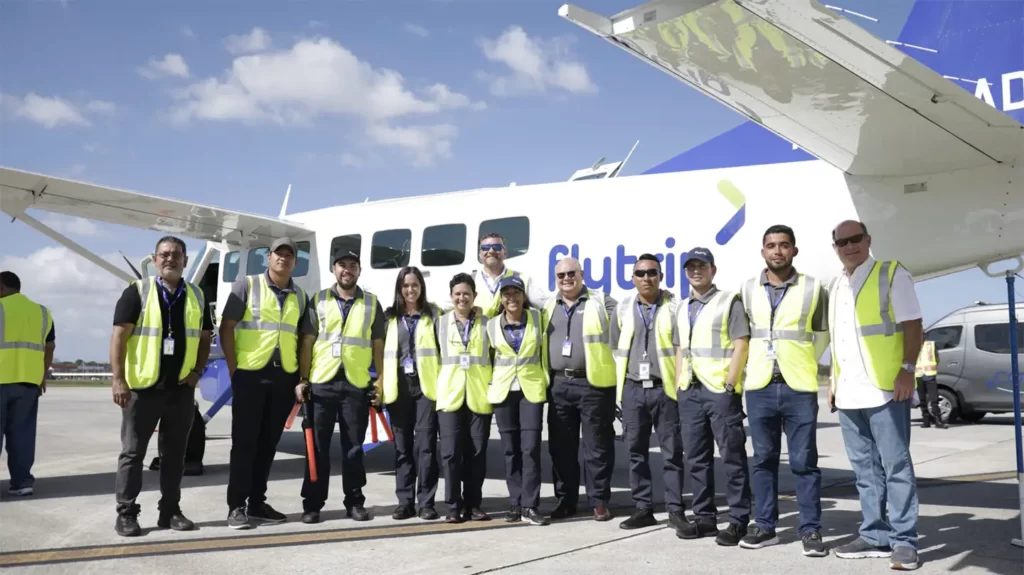 Visitors arriving at the Hub of the Americas will be able to take direct flights to Bocas del Toro, Pedasí, Contadora and Bahía Piñas. The charter airline carried out operations tests in Tocumen.
Flytrip will soon start operations at the Tocumen International Airport. With this initiative, Panamanian charter flight company expands options for local and international tourists who come from the United States, as well as other countries in the region and Europe, who now they will be able to take direct flights to Bocas del Toro, Pedasí, the Las Perlas Archipelago and Bahía Piñas, among other destinations, without leaving the air terminal.
This Friday, Flytrip carried out a flight simulation in Tocumen to show its operability. The airline also will maintain operations in its hangar located at the Marcos A. Gelabert International Airport, in Albrook, which has a VIP lounge, with capacity for 30 people.
En their cuenta de Twitter, Tocumen Airport reported on the preparations to receive the charter airline. "We are preparing the Fly Trip Panama operation, which will offer charter flights to beautiful tourist sites in our country from @tocumenaero and the Marcos A. Gelabert International Airport. Congratulations on our Panama!"
Flytrip has its own fleet of three aircraft, two Kodiak Quest 100 (each with capacity for nine passengers and a pilot) and a Cessna Grand Caravan Ex, which it received from the factory at the end of last year (with seats for 12 passengers plus pilot and co-pilot).
Informe Aéreo spoke with Jaime Fernández, CEO of Flytrip, about this new option that he will offer his clients and how it will contribute to tourism in the country.
What did the tests you carried out today at the Tocumen International Airport consist of?
We did a flight simulation with all the ground operations, pilots and passengers with their respective luggage to carry out the dynamics of arrival, disembarkation, use of the domestic terminal and registration. This was done to provide airport security based on our experience and responsibility in operations. Tocumen was satisfied.
What are the advantages for Flytrip when operating from the Hub of the Americas?
Our client portfolio will have an additional airport option, to be able to choose a place of departure and arrival and in this way we also provide the facility for connection to airlines. This will allow, for example, that the passenger who previously had to return very early to Panama City to be able to make the connection in Tocumen can stay a longer time at the destination, enjoying and this generates more resources for the country's tourism sector.
What will be the destinations that will operate from Tocumen?
Tocumen has already allowed us to start operations from Terminal 1, using gate 108, in order to dispatch both arriving and departing customers towards the different destinations that we maintain as Bocas del Toro, Piñas, Contadora, Río Hato and any other that they require.
What should international tourists who wish to hire their charter flights do when they arrive in Tocumen?
We are going to have advertising inside the airport, relevant information. Usually they call us before and the strategy is put together. We offer a unique experience inside the airport, guiding passengers to get off at Domestic Terminal 1, where a very brief process will take place. We will have our team on site, providing all the guide service to the passenger. We are going to enable a comfortable area in the domestic terminal for the passenger who is waiting for the flight.
What does this step of being in an international terminal like Tocumen represent for Flytrip within your expectations and plans?
For us it is a source of pride as a 100% Panamanian company, with Panamanian capital, to achieve this step. Tocumen is a very important airport in the region and is giving its customers options within the national operation so that a charter company like ours can operate. This raises the level of our company and It leads us to be in a place where, in turn, we are going to give added value to many of the airlines so that passengers have a new opportunity to mobilize within Panama.
With this we are also betting on tourism, Our intention is that Panama continues to be a growing destination and to be able to provide more facilities to tourists.
Which visitors are most attracted to destinations such as Bocas del Toro, Pedasi, Contadora?
We mainly have tourists who come from the United States. Tourists from the Netherlands, Spain and Germany also seek this type of travel. others are customers who come from Brazil, Colombia, Argentina, Chile, who are also going to be users of this service. There is an important dynamic of users of different ages. In the censuses that we have carried out, there are many young people who are choosing Panama as a place to do tourism and that is what we are betting on.
Are you going to continue operations in your hangar?
We will continue as a base in our hangar 14 Alfa at the Marcos A Gelabert Airport, the three aircraft are available for the operations that are required. We continue to be a national and international charter flight company, with this new option to be able to take the plane, either boarding or disembarking.